Transition Year Class 2017/18
Transition Graduation took place on Wednesday, 23 May 2018. Parents and family had the opportunity of coming into the school to view the work the girls did over the course of the year, students also provided entertainment on the night. Thanks to Ms Mary Gorman, TY co-ordinator for all her hard work in making this year such a success. Click here for photos
All of the girls prepared a memoir of their experience of Transition Year from the many trips they enjoyed to the activities they took part in – Our Transition Year Experience 2018 – click to open.
Congratulations to all our 4T Class who were awarded their coaching certificate by the GAA, Mr Macnamara presented the girls with their certs on Tuesday, 25 May 2018 – Well done
The Fingal Student Enterprise Regional final took place in the Crown Plaza Hotel in Blanchardstown on Thursday the 22nd. The school was represented by 2 groups "Autosnooze" and "Just Scrabble it" in the Senior category. The standard in this years competition was very high and both groups did the school very proud.
Thanks to all the students, staff and families who supported all of this years Mini Companies.
Junk Kouture regional finals took place in the Helix on Tuesday, 6 March and we were delighted that two of the Transition Year groups made it through to this round – the standards were high and the girls put on a brilliant catwalk display – Well Done! Thanks to Ms Niamh Lacey for all her help this year in the Junk Kouture competition – Click here for more photos
Junk Kouture competition 2017/18 – our Transition Year Students are hard at work finishing their Junk Kouture dresses for this year's competition – they have worked very hard to produce stunning outfits and we wish them all well in the upcoming competition – thanks to their teacher Ms Lacey for her work in helping the students! Click here for more photos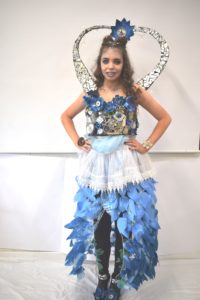 Well Done to Clodagh Scully who completed her ECDL module in record time as part of the 4T computer programme.
Ms O'Malley and Ms Gorman were delighted to present her with her completion certificate.
Christmas Fair took place on Monday, 18 December – the TY Mini Companies hosted their Christmas Market in the School Hall. The event was very successful with each group making the most of the opportunity to sell their products to both staff and students. Thanks to Mr Coleman and well done girls! Click here for photos
Gareth Mullins Headchef of the Marker Hotel came to the school to work with the TY Home Ec. students – the girls were given a talk from Mr Mullins and then had the opportunity to make Indian butter chicken curry – sincere thanks to Mr Mullins !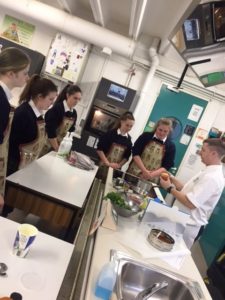 On Monday 4th, Tuesday 5th and Wednesday 6th, the Transition English class kicked off their year as Literacy Leaders for the school by organising a 'Lollipop Swop' where students donated a book to the new school's Bookmobile and got a lollipop in return. Transition Years are carrying on the good work of the Well Read Committee from previous years and are planning a year of events that will promote reading for pleasure and literacy amongst students. The Lollipop Swop was a great success; students donated 211 books, which exceeds the target that the TY group set for themselves. The bookmobile is now stacked with great reads that are suitable for all year groups and the launch will take place in the coming weeks. Watch this space.
The 4T Students visited the Ploughing Championship in September and enjoyed the event immensely despite the rain! Click here for some photos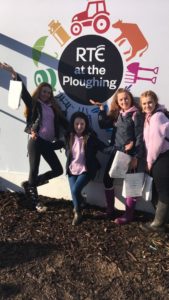 On Friday 22nd of September 10 TY girls traveled to DCU with Mr Steele to represent the school at this years launch of the PExpo 2018. The girls were invited to attend to meet James McCarthy and Jonny Cooper and to experience what the PExpo is all about. The PExpo is an exhibition of Physical Education and Sport knowledge ranging from fitness, nutrition, games development, psychology, IT and well being and students can present their project to a panel of judges on the day. This year Loreto Swords are planning on sending the TY group with a range of projects to represent the school and to potentially win the top prize.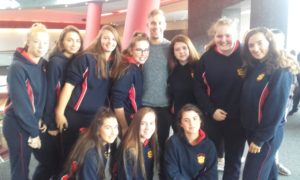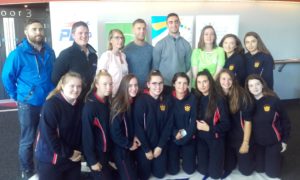 For more information on the PExpo 2018 please see www.pexpoireland.com or follow them on Facebook.
Transition Year 2017/18 began with a bonding trip to Belguim from 7 to 10 September 2017. The girls enjoyed many fun activities and in the process learned a lot about each other and themselves – thanks to the three teachers who accompanied the girs – Ms Mary Gorman, Ms Paula Fitzpatrick and Ms Angela Goucher.
Click here for some photos of the trip
Ms Mary Gorman has produced a Power Point Presentation that you can access via this link – be sure to use your cursor to zoom in and out on each box and put your speakers on for sound – we are sure you will find the presentation very helpful. Click Here
Transition year is provided as an optional course each year to a limited number of students. We have received very positive feedback from students, parents and others who have already experienced the programme. It is seen as a worthwhile and realistic programme while fulfilling the following basic aims:
Providing a transition between junior and senior cycle.
Introducing a new range of experiences which traditional exam orientated courses cannot include.
Laying the foundation for further study in Senior Cycle and third level, for adult education and lifelong learning.
To introduce students actively to the world of work and work simulation and to help students decide on a suitable career.
A wide range of subjects are provided each year. These are categorised under Academic, Personal & Social Development and Vocational. The programme is reviewed on an annual basis with the introduction of new modules on a regular basis.
It is hoped that these studies will help students broaden their interests and that it will give them a chance to reach greater maturity for facing examinations and decisions about the future.
The success of the year is largely dependent on how much a student puts into the year and how they use their time in and out of school. Parents also play a big part by supporting their young people by trying to show interest in what they are doing, encouraging them to work on their own initiative and by keeping open communication.
Teachers feel that students who have done Transition Year stand out in Senior Cycle as being more mature and having a clearer sense of purpose and the incentive to work towards a goal.
Ms Mary Gorman, TY co-ordinator.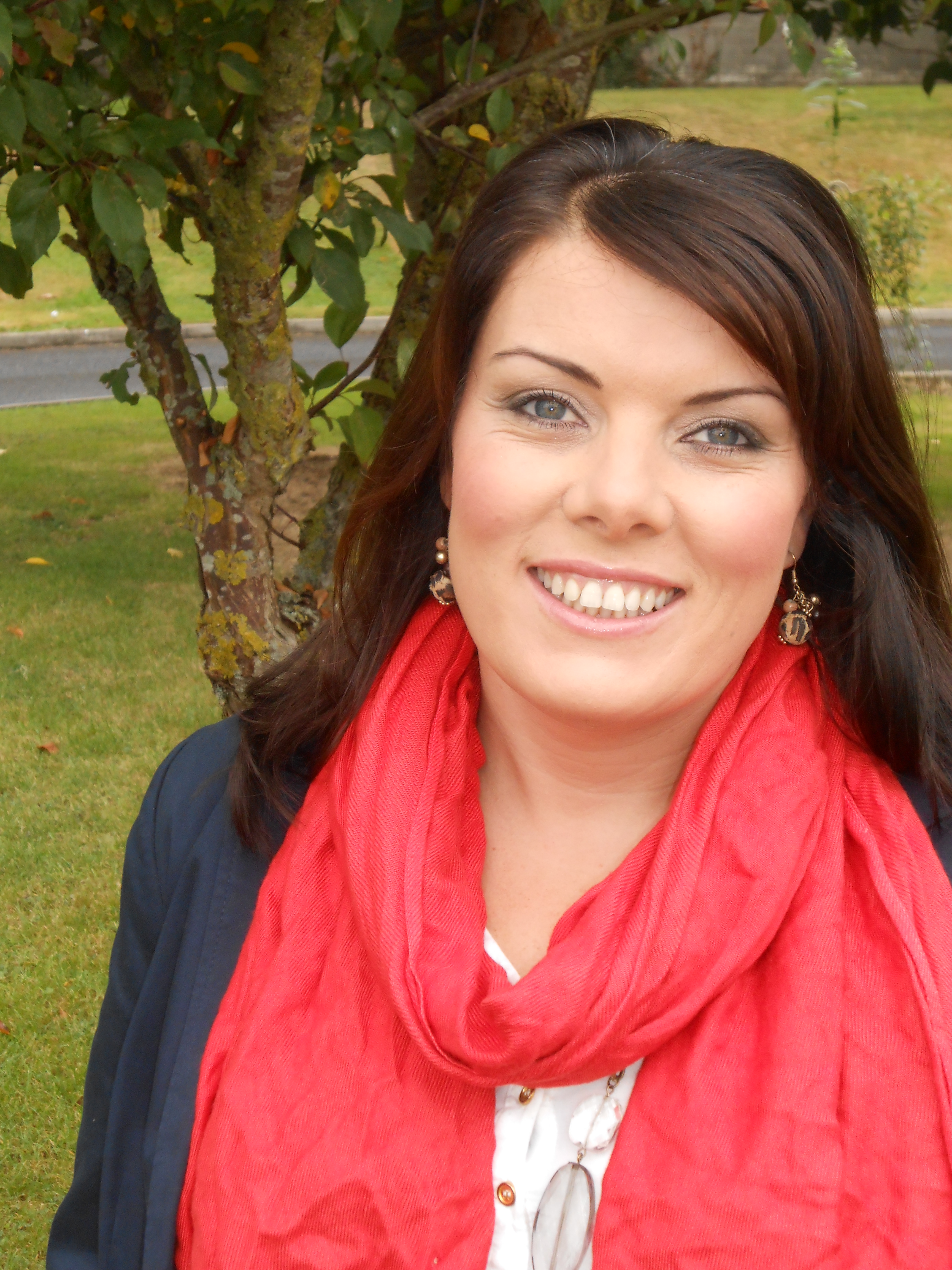 Note
Having considered the facilities etc. available we have one Transition Year class of 30 pupils. The Department of Education state that no student who participates in a Transition Year Programme may have more than 6 years in a secondary school.