Please Check back over the course of the year as we add photos of
the many events that happen in the life of Loreto College, Swords.
5th and 6th Year Students went to Newgrange on Wednesday, 5 December as part of their Art classes studies. Thanks to Ms Lacey and Ms O'Loughlin accompanying the students. Click here for photos
Garda Band Concert took place in St. Finian's Church, Rivervalley on Tuesday, 4 December. The evening was a great success and we had a full house on the night – all proceeds from the concert are for school funds and we thank the Parents' Association for organising such a fantastic event. Sincere thanks to the members of the Garda Band for a brilliant night of music, we appreciate the giving of their time to make this such a special occasion. Many of our students took part also and thanks to Ms Heeney and Mr Glennon for all their hard work in preparing the girls.
Gaeilge 24 took place on Tuesday, 23 November 2018 – we were delighted with the level of interest from students who took part. Well done to all the students and the Irish teachers who organised the event – click here for photos
The Annual Shoe Box Appeal took place in November this year. An amazing 415 shoe boxes were filled by students and staff, year on year this appeal continues to grow and we thank Ms Betty Cronin for all her work in organising this shoe box drive. Well done to everyone who contributed to this year's appeal.
Science week took place in school from 12th to 16th of November All 2nd year students took part in a Science quiz today (Tuesday, 13th November 2018) at 1.55pm to 3.15pm in the P.E hall. The quiz was a great success. A huge part of this success was the fantastic work the Fifth Years did organising and running the quiz today. The Science Department would like to thank the following Fifth Year students for all their hard work: Diana Novak, Sophia Mabingnay, Olivia Sasse, Grace Tyrrell, Olga Yankouskaya, Victoria Pietak, Joelle Tierney, Chloe Abijay, Sofija Gasanova, Ellen Grant and Aulbright Nyih. The following students received 1st Place in the quiz, Rachel Appleyard, Lucia Brown, Sienna Sexton and Katelyn Donohoe, in 2nd Place is Olivia Kelly, Katie Preston, Katie O' Brien and Ella Barron and in 3rd Place is Emma Rallo, Rebecca Peakin, Katie White and Mia Saunders. Congratulations to all three teams! Well done to all students who took part in the quiz Click here for photos
Maths Week -Well done to the winning team for the first year maths quiz. The winning team "A Piece of Pi" was Sarah Fitzgerald, Brooke Butler, Valerie Carwood and Aoife FitzSimons.The runners up were ""Holy Family": Merlin Binu, Elle Sarah Doyle, Ciara Dunne and Hezamary Paul. In third place were "Maths Whizz" : Ciara Aoife O'Grady, Rachel Lawton, Isabel Hyland and Deirdhile Scott.Sincere thanks to Transition Year students who put so much effort into organising the quiz and ensuring the success of the event. Clara Boland won the 'Best tasting' category, with her delicious tasting cup cakes with Maths Symbols, Sarah Fitzgerald won the 'Most Innovative' with her funny 'Bar Chart' made using Mars, Twix and Crunchie Bars. Tegan Barody won the 'Most Maths' category with her creation of a maths cake divided into fractions.Brooke Butler was the overall winner with her maths themed cake. Click here for photos
Friendship Week took place from 22 to 26 October – it was a week of activites that centred on the theme of Friendship – the week ended with a lunch time concert organised by the Arts Committee and Ms Scully – click here for photos of the week
Mental Health Day – Wednesday, 10 October 2018
World Mental Health Day took place on the 10th October and this years theme is 'Young People and Mental Health In a Changing World', as set by the World Federation for Mental Health.
The Five Ways to Wellbeing are simple actions you can do in your everyday life to feel good and function well.
Faith Fest took place on Friday, evening 5 October 2018 in Clonliffe College. A group of our students attended the event accompanied by Ms Cronin. Faithfest is an Event for Teenagers. Faith Fest aims to help build spaces where teenagers have an experience of a peer community, explore faith, and encounter an experience of welcome, belonging, discipleship, worship and prayer in a creative and fun atmosphere.
Academic Awards/Setting up of Committees 2018 took place on Monday, 24 September. Well done to all the students who received a prize in recognition of their academic achievements and also to the other students who have joined the various committees – well done! Click here for photos
Ceol 2018 – Loreto Swords was picked as the school to launch Ceol 2018. We were delighted to welcome RTE to the school and presenter Eoghan McDermott who arrived with guests that included Kodaline. All the senior students were presented with a CD of Ceol . Click here for photos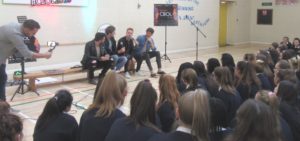 Annual School Mass took place on Monday, 24 September. The Mass was celebrated in our local Parish church St. Finian's. Thanks to the Ms Cronin, Ms McCaughey, Ms O'Hara, Mr Glennon and Ms Heeney for making the occasion so special. Click here for photos
First Year Sports Day took place on Friday, 21 September 2018. The girls had the opportunity to try different sports offered in the school and we hope by having a taste of what is on offer that they will join in. Thanks to Ms Furlog, Ms Graham and the 4T Class for all their help during the day. Click here for photos
Congratulations to all our students on their Junior Certificate Results 2018. There was great excitement in the school on Wednesday, 12 September as the long awaited results arrived in the school. Well done to all the girls on their fantastic results and thanks to their teachers for all the help and support that they gave to the girls.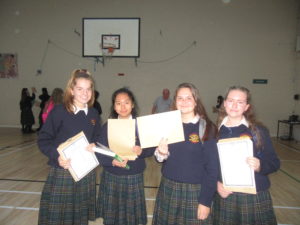 Big Sister/Little Sister – thanks to Ms Cronin who has organised the big sister/little sister pairing this year – the first year students have been paired with a 6th Year student who will guide them along as they start into secondary school. Click here for some photos
On Friday, 24 August we welcomed our First Year Students to the College, we wish them the very best as they start Secondary School! Thanks to the 6th Year Leadership Committee who helped out on the 1st Year Induction Day
Well done to our Leaving Cert Students 2018 on their Leaving Certificate Results – we wish them all the very best as they leave the college and start a new chapter in their lives
Click here for some photos of results day