Please Check back over the course of the year as we add photos of
the many events that happen in the life of Loreto College, Swords.
Loreto College, Swords Gallery 2016/17 – click to open
Link to Memories of 2016/17 which we played at our Annual Prizegiving Awards
Transition Year Graduation took place on Wednesday, 25 May – the student's work over the year was showcased on the concourse and was followed by an evening of song and drama. Thanks to all the TY teachers in particular to Ms Gorman TY programme co-ordinator and to Ms Scully and Ms Heeney for the entertainment and to Ms Martin and Ms Byrne for organising the refreshments.
Congratulations to Our Class of 2017 as they Graduate from Loreto College, Swords! A special mass was organised for the students and afterwards everyone came together to wish the students well.
Click here for a link to a selection of photos of class of 2017 over the years
Annual Prizegiving Took place on Monday, 22 May 2016. Students received awards for a variety of reasons from Attendance, Sporting achievements, Leadership and Drama. Thank you to Jonny Cooper from the Dublin GAA team who was a guest speaker Well done to everyone! Click here for photos
The 4T class enjoyed the Viking Splash tour on Tuesday, 16 May – they were accompanied by Ms Heeney and Ms Gore. As the year draws to an end the girls continue to enjoy their Transition Year Experience – click here for photos
Annual Sports Day, 11 May 2017 The day was a great occasion and we were thankful that the weather was warm and sunny! We were looking forward to seeing what our 6th Years did this year and we were not disappointed! The 6th Year Students put on a great display and had a Turtle Theme – well done girls! Everyone had a great day as you can see from all the photos – click here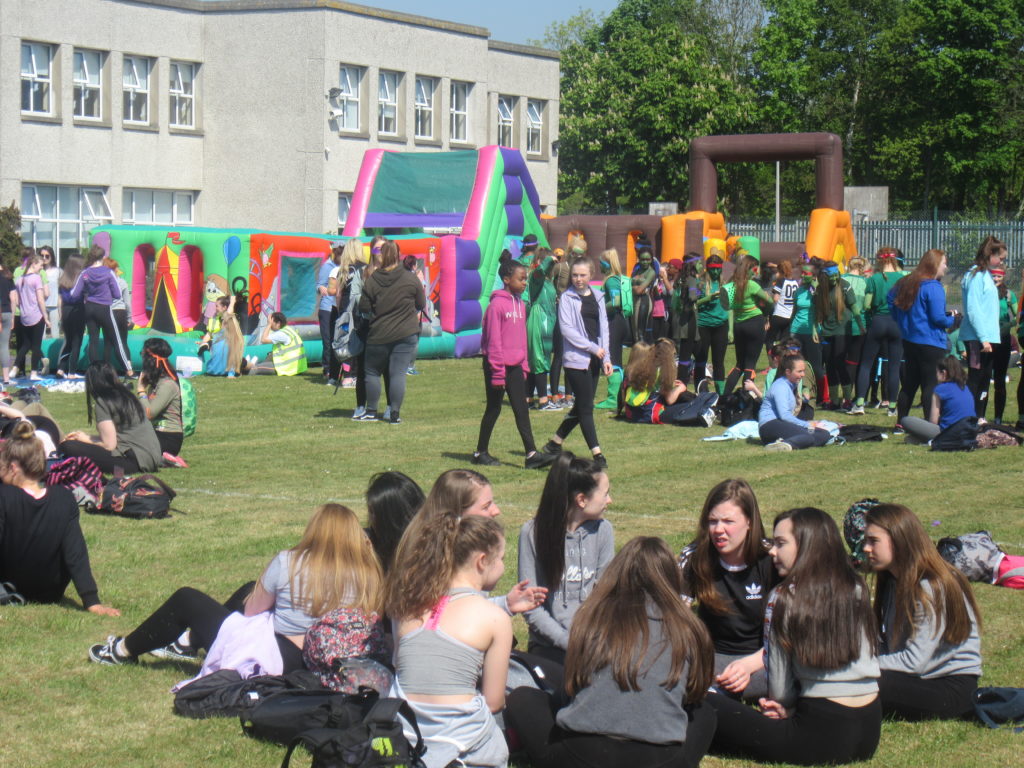 4T took a trip to Causey Farm on Wed, 3 May – the sun shone and the girls had a wonderful trip which included dancing, baking bread, painting, milking cows and a jump in a bog to finish the day. Thanks to Ms King and Ms Morgan who accompanied the girls – Click here for photos
The TY students organised a very successful fundraiser on behalf of Aoibheann's Pink Tie and they raised an impressive €1,500 for the charity. They presented the cheque to the charity on Friday, 28 April – well done girls!
Trip to Derry – Our Senior Students has a wonderful trip which included Titanic Museum, Stormont, tour of Belfast city, signing the Peace Wall, walking tour of Derry walls, Apprentice Boys Hall, Museum of Free Derry and tour of the murals in the Bogside. The girls enjoyed the trip and found it very informative – thanks to Ms Dalton and Ms Lacy for organising the trip. Click here for photos
Ladies U16 Leinster Final Winners!
Seachtain na Gaeilge 2017
Bhi Seachtain na Gaeilge 2017 ar siúl ón 13 – 16 Márta! Every morning the Traditional Irish group provided music for us to enjoy and various activities took place such as quizzes, competitions, poster making etc. Thanks to the Irish Dept. for all their work.
2R Tree Planting – As part of their CSPE Action Project class 2R were involved in Tree Planting in conjunction with Fingal County Council – over 60 trees were planted in the local park – well done girls! Click here for photos
We were delighted to welcome representatives from Fingal Library to the school on Thursday, 9 March – they kindly set up a stand and provided information to students about the services Fingal Library offer to students and how students can access information online – it was very informative and we thank Fingal Library for coming to Loreto Swords! As part of our literacy plan this was a very welcome initiative.
Our Annual Subject Choice Fair took place on Thursday 9 March 2017 for 3rd and 4th Year students. Every subject was represented and students were on hand to answer any questions prospective students had – sincere thanks to all the staff and students who helped out on the day and a special thank you to Ms Patricia Kennedy for organising the event!
As part of Lent and in conjunction with Healthy Eating we invited all our students to participate in a 40 Day No Sugar Challenge which started on Ash Wednesday, 1 March 2017. To encourage our students posters are on display around the school showing how much sugar we consume from various drinks/foods without even realising it! Well Done to all who have taken on the challenge and for those who have yet to commit we are sure all the information being presented each day will remind us just how much sugar we are all consuming – Click here for some photos
Students from 5th Year and 4th Year Made a Visit to Facebook on Wednesday, 1 March 2017 as part of their Business class – they had a very interesting day and were well looked after by Facebook! Thanks to their teachers Ms O'Malley, Ms Dalton, Mr Glynn and Ms Goucher who organised the trip. Click for Photos
On Friday, 17 February students and teachers got their school community glowing Orange for mental health awareness as part of Cycle Against Suicide's first annual #SchoolGoOrange day. It aims to drive mental health awareness and promote help-seeking behaviour in second level schools across all 32 counties. It hopes to spread the message that 'It's OK not to feel OK; and it's absolutely OK to ask for help'.
Class 2R visited the Botanical Gardens accompanied by Ms Scully as part of their action project for CSPE – they found the trip very informative and relevant to their project work. Click here for photos
Cake Decorating Classes were given by Ms Catherine O'Donoghue to interested students prior to Christmas – the results were amazing! Well done girls and thanks to Ms O'Donoghue for organising the classes –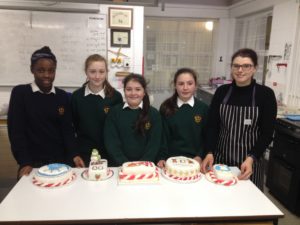 2R CSPE held a cake sale on at 11 am break time. This cake sale was to fundraise for their CSPE Junior Cert action project which is to plant a wild flower garden on the school grounds and to give out wild flower seeds to parents to encourage more people to plant wild flowers to attract bees and other biodiversity. Thank you to Ms Scully who helped us organise the successful cake sale.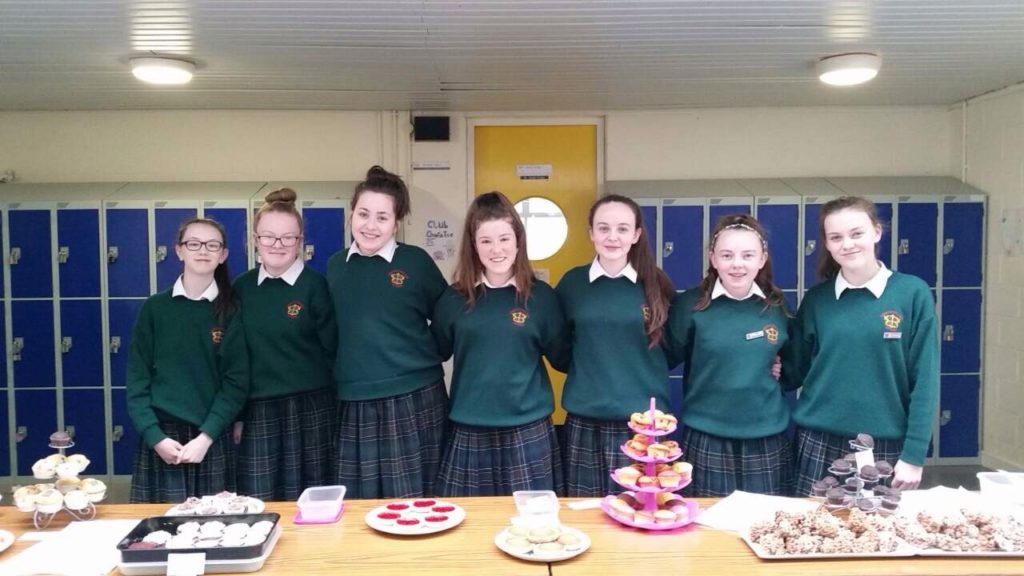 As per tradition in Loreto College, students were invited to make St. Bridgit's crosses as part of Mary Ward/Catholic Schools Week. Click here for more photos
Junk Kouture – Transition Year are busy with the final preparations for their Junk Kouture competition – four dresses are currently being created so its a busy time for all – thanks to their teacher Ms Lacey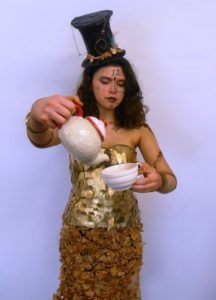 Transition Year were involved in teaching in the local Primary School on the topic of drugs – thanks to Holy Family Primary School for facilitating our students!
Christmas Concert took place on Wednesday, 21 December at lunch time which created a very festive atmosphere in the school – well done to all involved!
A Table Quiz was organised by Transition Year Students on Tuesday, 20 December for all First Year students – Click here for photos
Christmas Jumper Day – took place on 16 December 2016. Students got into the festive spirit and also contributed €1 for Charity – well done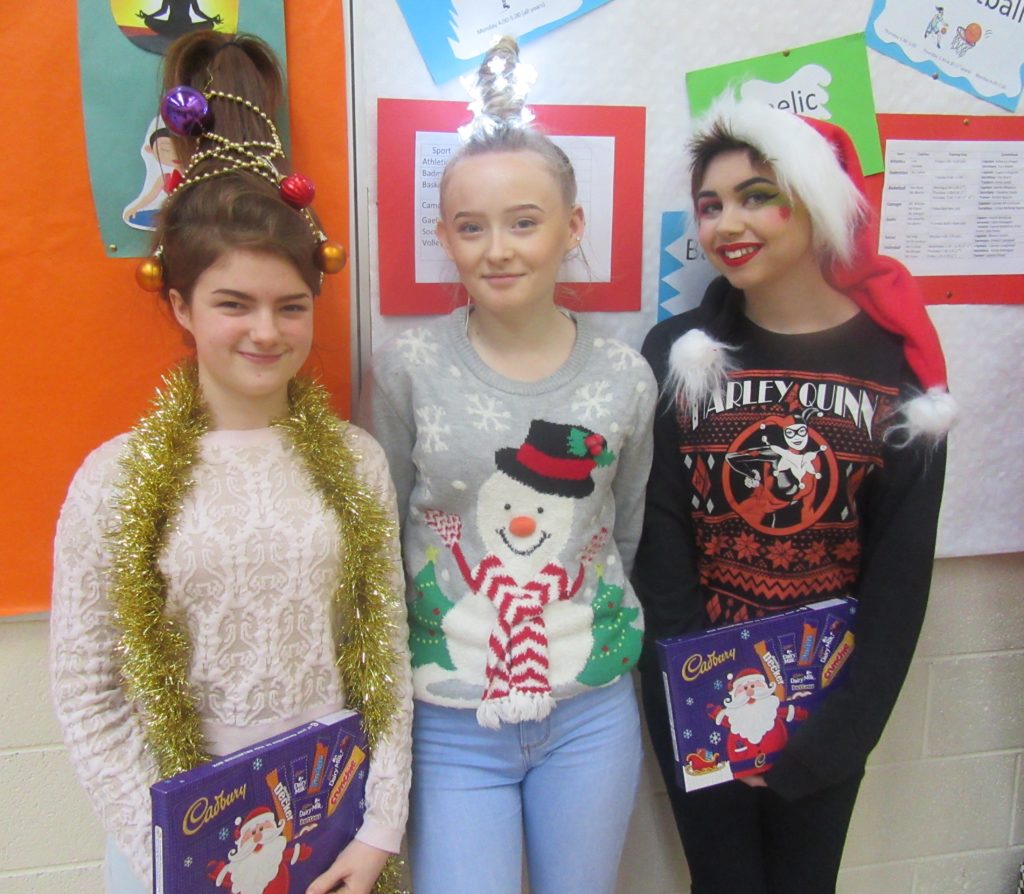 Loreto Has Talent show took place on Thursday, 15 December 2016
Click here for photos Click here for Link to Short Video of Concert
4T Christmas Fair took place on Thursday, 8 December 2016- a variety of items were on sale from Chocolates, Candy Canes, Hot Chocolate to Christmas ornaments to Sports bottles and gum shields! Well done to all the girls and to Ms Emma Dalton for all her hard work.
Reading Week – 5 to 8 December 2016 inclusive – a host of activities including a book swap, reading classes, 1st Year Spelling Bee and a Harry Potter Quiz. We also distributed a Bookmark to all our students using a design from Ashly Jacob who was our bookmark competition winner!
Faye Ward Spelling Bee Champion 2016
Ashly Jacob Bookmark Design Winner
3Q went to the Offices of Irish Aid with Ms Gorman on Tuesday, 29 November 2016.
4T had an exciting day out in Dublin Airport at the Launch of the StudentLife Summit – National Careers Week with the Tanaiste & Minister for Justice & Equality Frances Fitzgerald TD and the president of IGC Betty McLaughlin. Students also attended from Belvedere College to mark the occasion. Click here for more photos
Another Successful Year for the Shoe Box Appeal
Over 150 collected and filled by our wonderful students and staff! Thanks to everyone who took part and a special thank you to Ms Cronin and the TY class for all their help.
Modern Languages Week took place from 21 November to 25 November 2016 – it was a great success and culminated in a coffee morning for the students – thanks to all the Modern Languages for organising the posters, the games etc. throughtout the week – click here for photos
Labhair Gaeilge liom inniu – Speak Gaeilge for 24 hrs took place on 18 November 2016 – almost 250 students took part – well done to all the girls and their Irish teachers!
Science Week took place from 14 November to 18 November 2016 and was a big success! The science department organised many events to mark Science Week. A science game 'periodic pressure' took place every lunch time in the Demo Room, a riddle/question was placed on a stand outside the science labs each day and students could enter with a final taking place at the end of the week. There was also a poster competition. Thanks to all the Science dept. for their hard work!
Transition Year Students had a visit to the Irish Aid Office on Monday, 14 November with their teacher Ms Theresa Sheelan – they found the presentations and talk very informative.
Click here for photos
Halloween Concert – Well Done to all the Students who took part and to Ms Scully who organised the event!
Friendship Week took place from 24 to 28 October 2016. Many activities took place during the week and culminated in the 6th Years and 1st Year coming together to make friendship bracelets! Click here for photos
Quiddith a game originating from the Harry Potter Wizard books was played as part of Friendship Week between the staff and the 6th Year Students. The 6th Years were the winners! Well Done Students and Better Luck next time Staff!
Ms Furlong from the losing side being 'comforted' by the victors!
Maths Week took place 17 to 21 October 2016 – teachers organised various activites to mark the week which included a maths quiz for all first years on Friday, 18 Oct. Click here for photos
PDST 'Wellread National Competition' was won this year by Loreto College. This is a national initiative designed and organised by the Professional Development Service for Teachers. It aims to create Heightened Awareness about the importance of creating a culture of reading in school communities for our young people as part of their personal and academic development.
Loreto Swords have been awarded with a Flag and Certificate for their hard work in involving all relevant stakeholders who impact on student learning including students, teachers, parents, Board of Management and the wider community in a range of reading and associated activities. They have explicitly fostered and nurtured a reading culture in the school which will bring about an overall improvement in students' literacy skills in a fun and engaging way.
Transition Year Students went to Spain from 8 to 15 October to walk the Camino, it was a great experience for the students and sincere thanks to Ms Gorman, Ms Egan and Ms Kennedy who accompanied the girls. Click here for photos
1st Year Home Economics Classes Visited Collins Barracks on Wed, 5 Oct 2016.
The students were accompanied by their Home Ec. teachers Ms Byrne and Ms Martin and they enjoyed the trip immensely. Click here for photos
Blue Day was held in the College to raise funds for Loreto Rumbeck and also to wish Ms Sorcha Furlong the best of luck in the Dublin Ladies GAA final. The total raised on the day was €955 and we were delighted to present a cheque to Sr. Brigid Tunney for Rumbeck – click here for photos
Academic Awards and Setting up of Committees took place on Monday, 19 September. We were delighted to welcome back some of the Leaving Cert students and acknowledge their success. Sr. Brigid Tunney spoke to the students and we thank her for making the occasion so special. Students from the various year groups were also given awards for their academic achievements . The formation of the various committees were finalised – we have a diverse number of committees from Lost Property, Catering, Games to Leadership. Click here for photos
Opening School Mass – the annual school Mass took place on Monday, 19 September – it was celebrated in St. Finian's Parish Church. Two students – Benita Mbanusi and Elenor Tallon were ordained as Ministers of the Eurcharist. A past pupil Jenny Morgan also spoke to the students about her time in Poland this year when she travelled as part of a group to World Youth Day. Thanks to the RE teachers and Music teachers for all their work in making the Mass such a special occasion. Click for photos
First Year Sports Sampling Day , Tue 13 September 2016
All First Year Students took part in a day of Sports whereby they got to try all of the sports on offer in the school – it was a fun day for the girls and we hope it will inspire them to take up a new sport having had the opportunity to take part – thanks to Ms Furlong who organised the day. Click here for photos
Little Sister/Big Sister is a program run here in the college whereby we pair up First Year Students with a Student from Sixth Year – the older girls provide
support, practical help and friendship to the younger girls and help them to settle into Secondary School. We have found this has been of great
benefit to the younger girls and we thank our senior students who got involved this year.
Click here for Photos of Little Sister/Big Sister
Junior Cert Results were issued by the Dept. on Wed, 14 September 2016. Well done to all our students on their brilliant results and a special congratulations to Olivia Coady Waters who achieved an impressive 11 A's in her results! Click here for photos
We were delighted to welcome our First Year Students to Loreto College on Friday, 26 August 2016!
Click here for some photos taken on the day
Leaving Cert Results Day 2016 – click here for photos
Welcome to our School Photo Albums for three Academic Years –
2015/16, 2014/15 and 2013/14

Click here to view our entire photo gallery for 2015/2016


Click here to view our entire photo gallery for 2014/15

Click here to view our entire photo gallery for 2013/14