Please Check back over the course of the year as we add photos of
the many events that happen in the life of Loreto College, Swords.
Click here for Gallery 2017/18
Mary Ward Week took place from Monday, 29 January to Friday, Friday, 2 February. The girls also celebrated the Feast of St. Brigid and made traditional St. Brigid crosses.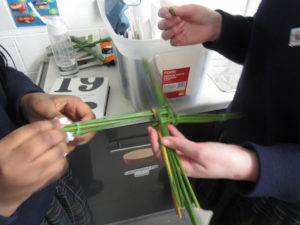 Junk Kouture competition 2017/18 – our Transition Year Students are hard at work finishing their Junk Kouture dresses for this year's competition – they have worked very hard to produce stunning outfits and we wish them all well in the upcoming competition – thanks to their teacher Ms Lacey for her work in helping the students! Click here for more photos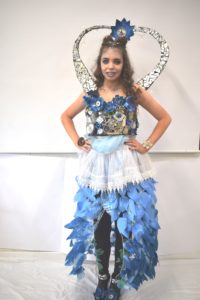 The Student Leaders Conference is taking place today in the 3Arena 18 January 2018. Cycle Against Suicide is an initiative that was started in 2013 to raise awareness of the considerable help and supports that are available for anyone battling depression, self-harm, at risk of suicide or those bereaved by suicide. We are delighted that our students could take part and thanks to Ms Patricia Kennedy and Ms Karen Parker who accompanied the students today. Click here for photos
A NEW REPORT commissioned by the government says that Computer Science should be made a Leaving Certificate subject. We are delighted to announce that Loreto College, Swords has been chosen as a pilot school in the introduction of this new subject. Minister Bruton made a visit to the school on Wednesday, 20 Dec and met with staff and students. Click here for photos
A Christmas Celebration took place on Tuesday, 19 December. The school choir groups put on a festive array of Christmas Carols and drama and a most enjoyable evening was had by all – thanks to Ms Heeney, Mr Glennon and Ms Scully for all their hard work. Click for photos
Christmas Fair took place on Monday, 18 December – the TY Mini Companies hosted their Christmas Market in the School Hall. The event was very successful with each group making the most of the opportunity to sell their products to both staff and students. Thanks to Mr Coleman and well done girls! Click here for photos
Christmas Jumper Day took place on Friday, 15 December and was a huge success – all students contributed €2 for Charity and wore an array of Christmas Jumpers, Hats and outfits – Well done to everyone for making the day such a success! Click here for photos
Loreto College Swords is holding the St. Vincent De Paul Annual Christmas Food Appeal. This will be running until Friday the 22nd of December. This food will be collected each morning at the front of the school and will then be distributed to all of those in need in our local area around Christmas time. Please bring in as much food as you can, it will make a big difference and will be greatly appreciated.
UCD School of Business Award – congratulations to 14 students from Transition Year and 5th Year who were awarded for excellence in their Junior Business Studies exam by UCD School of Business – thanks to Ms O'Malley, Ms O'Dowd and Ms Dalton. The students were all presented with certificates by UCD in a ceremony on Tuesday, 5 December – six students and Ms O'Malley collected the certificates on behalf on the group.
Textile and Craft Club for First Year students began this term with Ms Niamh Lyons working with the students after school – the girls are enjoying the work and have produced some very nice work todate. Thanks to Ms Lyons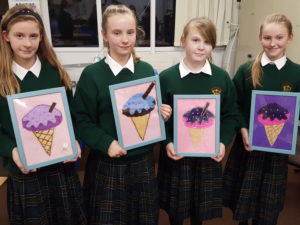 5th Year French classes went to the Irish Film Institute on Tuesday, 28 November to see a french film as part of their french syllabus, they were accompanied by Ms Laura McGlade, Ms Jan McNamee and Ms Paula Fitzpatrick
Annual Shoe-Box Appeal was a huge success this year! We were overwhelmed with the number of boxes filled this year from so many students and staff, thanks to Ms Betty Cronin for making this such a fantastic success. Click here for photos
Special Mass for the Deceased was held in the school on Friday, 24 November to remember past students and staff – we were delighted to welcome family and friends to the Mass and to have the opportunity to have a cup of tea afterwards. Thanks to Bishop Raymond Fields who celebrated the Mass, Ms Betty Cronin who organised the event and also to the catering committee and Ms Martin who provided the refreshments afterwards. Click for photos
Fruity Friday took place on Friday, 24 November as part of Healthy Eating Week. The students were encouraged to bring healthy foods to school for lunch and on Friday all students were offered healthy snacks for the 11 o'clock break – thanks to Ms Sarah Byrne and Ms Linn Martin for all their work in making the week so successful!
Science Week took place from 13 to 17 November 2017. We celebrated Science week with numerous events for students to take part in such as riddles, poster competitions and a quiz. Well done to everyone who took part and thanks to the science department for organising the events.
Jigsaw Mental Health organisation held an Art Competition open to all students with a Christmas message theme -the first year students produced some lovely posters for the competition – well done to everyone who took part! Click here for some photos
Outdoor Pursuits trip took place from Wednesday, 8 Nov to Fri, 10 Nov – the students were a mixed group from 3rd to 6th Year and were accompanied by Ms Graham, Mr Steele and Ms Thompson. The girls travelled to Galway, St. Petersbourg centre and had a jam packed three days – click here for photos
Rotary Youth Leadership Awards 2017 took place in November. Alyson McGrath of 5th year represented the school very well and although she didn't win we congratulate her on her achievement.
Launch of a book 'Learning for a Just World' took place in Loreto St Stephen's Green on Wednesday, 25 October. The book was produced by the Loreto order in partnership with Trocaire and Irish Aid and will be used for 1st and 2nd Year students lessons. Two students Olivia Coady Waters and Caoimhe Ni Mhorain represented Loreto Swords at the launch and are pictured with Minister Ciaran Cannon as members of the school justice team.
Friendship Week took place from Mon, 23 Oct to 27 Oct. Many activities took place during the week and guest speakers were organised to speak to the various year groups on topics such as cyber bullying, the students also made Friendship bracelets. The week ended with a lunch time concert.
To mark the launch of the Loreto Bookmobile on Friday 20th October, TY students ran a fun competition with free entry for everyone. Students had to guess the number of books in the bookmobile with a Penney's voucher up for grabs for the winner. The launch of the bookmobile follows the success of the Lollipop Swop that the TY group organised earlier in the month. All books donated in the swop are being used in this great new resource for the school. The bookmobile is now in situ in the library and may be used by any student in Presiding that has finished their homework or study.
TY will be introducing more literacy initiatives in the coming months…
Due to Storm Ophelia Maths week was shorter than normal!
However that did not hamper the planned activities. The students participated in various activities that promoted their maths skills, a different perspective to maths in everyday life and fun games. Some students completed puzzles while others baked maths themed cakes. All students were invited to take part in the Maths Eyes competition where students take photos of the Maths in the world around them. The highlight of the week was a table quiz for all first years organised by the transition year students.
Click for photos

A Loreto Flash Mob! event took place on Friday, 13 October and was in support of awareness of mental health issues – a large group of students took part in a dance routine much to the amazement of the other students! Thanks to Ms Kennedy and Mr Kindlon who organised the event.
We are delighted to congratulate Ciara on her outstanding achievement in being part of Team Ireland in the ITF World Taekwon-Do Championships. Ciara became World Champion in -50kg Female Individual Sparring on Thursday, 12 October in City West. Well Done Ciara!
On Monday 4th, Tuesday 5th and Wednesday 6th, the Transition English class kicked off their year as Literacy Leaders for the school by organising a 'Lollipop Swop' where students donated a book to the new school's Bookmobile and got a lollipop in return. Transition Years are carrying on the good work of the Well Read Committee from previous years and are planning a year of events that will promote reading for pleasure and literacy amongst students. The Lollipop Swop was a great success; students donated 211 books, which exceeds the target that the TY group set for themselves. The bookmobile is now stacked with great reads that are suitable for all year groups and the launch will take place in the coming weeks. Watch this space.
World Languages and Culture Week took place from 2 to 6 October inclusive. The students participated in various activities during the week which culminated in a lunchtime concert of song and dance. We also welcomed two Loreto Sisters – Sr. Igora from India and Sr. Breda from the USA who met with class groups and staff on Friday.
The 4T Students visited the Ploughing Championship in September and enjoyed the event immensely despite the rain! Click here for some photos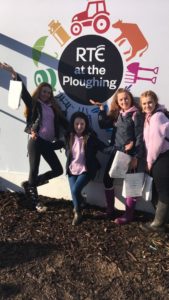 Academic Prize-giving and commencement of the various school committees took place on Tuesday, 19 September. Students were presented with awards to acknowledge their success in the house summer exams and in the Junior and Leaving Certificate exams. The students who would be part of school committees were also announced – well done to all the students on their success.
Our Opening School Mass took place on Wednesday, 20 September. Thanks to Ms Cronin, Ms Florence Heeney and Ms Siobhan O'Hara who organised the music and prayers. Click here for photos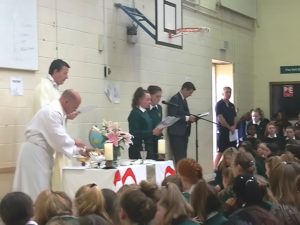 First Year Sports Sampling Day took place on Friday, 15 September 2017. All 1st Years had the opportunity of engaging in a variety of different sports and we hope they will now have the confidence and enthusiasm to take part in extra curricular sport here in the school and outside. Thanks to Ms Donna Graham and Mr Christopher Steele PE teachers for organising the day and to all the other staff who helped out. Click here for photos
ECO-UNESCO Young Environmentalist Awards – Great Success for Loreto Swords! In the Junior Overall category, the 'Let it Bee' project was the winner, which also scooped the Biodiversity Award. The students provided a habitat for bees and other insects and raised awareness about the decline in bee population due to chemical sprays and the threat of pollutants to the natural world. Our students planted a garden, organised a concert and a drama and provided flower seeds for parents and Fingal County Council agreed to plant. Well done girls on this great achievement and thanks to Ms Deirdre Scully, teacher. Click here for photos
Junior Certificate Results 2017 were issued to the students on Wednesday, 13 September 2017. There was a great deal of nervous excitement as the students gathered in the hall. We congratulate the students on their results!
Ms Cronin has worked hard to put together our 1st and 6th Year students in our Big Sister/Little Sister groupings this year. Each year we pair Sixth Year students with First Years to offer advice and support to their 'younger sister' as they progress through First Year – thanks to Ms Cronin for organising the groups.
Transition Year 2017/18 began with a bonding trip to Belguim from 7 to 10 September 2017. The girls enjoyed many fun activities and in the process learned a lot about each other and themselves – thanks to the three teachers who accompanied the girs – Ms Mary Gorman, Ms Paula Fitzpatrick and Ms Angela Goucher.
Click here for some photos of the trip
The Year began with a trip to the Art Gallery for the students in 5th and 6th Year Art classes – Ms Lacey and Ms O'Loughlin accompanied the students on the day. They went to the Vermeer Exhibition and then to the Collin Davidson Silent Testimony in Dublin Caslte. Click here for some photos
We were delighted to welcome our First Years to Loreto College, Swords today for their orientation day – the members of the 6th Year Leadership Committee were on hand to guide the students. We wish them well as they start their secondary school experience!
Well Done to Our Leaving Certificate Class of 2017 on their results – we wish all our students the very best!
Click here for some photos of results day

Loreto College, Swords Gallery 2016/17 – click to open

Click here to view our entire photo gallery for 2015/2016


Click here to view our entire photo gallery for 2014/15

Click here to view our entire photo gallery for 2013/14