Please Check back over the course of the year as we add photos of
the many events that happen in the life of Loreto College, Swords.
Mental Health Day – Wednesday, 10 October 2018
World Mental Health Day took place on the 10th October and this years theme is 'Young People and Mental Health In a Changing World', as set by the World Federation for Mental Health.
The Five Ways to Wellbeing are simple actions you can do in your everyday life to feel good and function well.
Faith Fest took place on Friday, evening 5 October 2018 in Clonliffe College. A group of our students attended the event accompanied by Ms Cronin. Faithfest is an Event for Teenagers. Faith Fest aims to help build spaces where teenagers have an experience of a peer community, explore faith, and encounter an experience of welcome, belonging, discipleship, worship and prayer in a creative and fun atmosphere.
Academic Awards/Setting up of Committees 2018 took place on Monday, 24 September. Well done to all the students who received a prize in recognition of their academic achievements and also to the other students who have joined the various committees – well done! Click here for photos
Ceol 2018 – Loreto Swords was picked as the school to launch Ceol 2018. We were delighted to welcome RTE to the school and presenter Eoghan McDermott who arrived with guests that included Kodaline. All the senior students were presented with a CD of Ceol . Click here for photos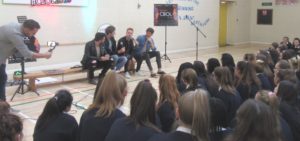 Annual School Mass took place on Monday, 24 September. The Mass was celebrated in our local Parish church St. Finian's. Thanks to the Ms Cronin, Ms McCaughey, Ms O'Hara, Mr Glennon and Ms Heeney for making the occasion so special. Click here for photos
First Year Sports Day took place on Friday, 21 September 2018. The girls had the opportunity to try different sports offered in the school and we hope by having a taste of what is on offer that they will join in. Thanks to Ms Furlog, Ms Graham and the 4T Class for all their help during the day. Click here for photos
Congratulations to all our students on their Junior Certificate Results 2018. There was great excitement in the school on Wednesday, 12 September as the long awaited results arrived in the school. Well done to all the girls on their fantastic results and thanks to their teachers for all the help and support that they gave to the girls.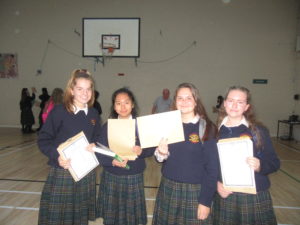 Big Sister/Little Sister – thanks to Ms Cronin who has organised the big sister/little sister pairing this year – the first year students have been paired with a 6th Year student who will guide them along as they start into secondary school. Click here for some photos
On Friday, 24 August we welcomed our First Year Students to the College, we wish them the very best as they start Secondary School! Thanks to the 6th Year Leadership Committee who helped out on the 1st Year Induction Day
Well done to our Leaving Cert Students 2018 on their Leaving Certificate Results – we wish them all the very best as they leave the college and start a new chapter in their lives
Click here for some photos of results day