Transition Year 2020/21
This year due to the popularity of Transition Year we have two classes of TY running. We plan to run as many activities as possible throughout the year and make this year the best ever!
Transition Year had an outing to the Phoenix Park in April as part of an orienteering activity – th
Transition Year – the students were involved in a Cross Stitch session of class work and on Friday, 14 May the cross stitch teacher picked the student who she felt had made the best overall cross stitch project – well done to Alena Hughes! Click here for more photos
ey were also presented with Certificates for a First Aid programme they completed during the year – well done girls! Click here for more photos
On Friday, 11 December the TY students made a visit to Dublin Zoo for an Ecology Presentation – click here for photos
Forensics Day for Our TY Students as they investigated the assassination of President John Kennedy – click here for photos
It was a most interesting day for all the students and thanks to Ms Gorman who organised the event.
Transition Year Organised a Care Home Collection this year, as well as organising the collection of items from within the school community they also set up a stand outside Supervalue in Borimhe Shopping Centre – thanks to everyone who supported this initiative and in particular to Ms Mary Gorman for all work in co-ordinating this fantastic venture!
Zipit – TY students had an adventure day in Dublin organised by Ms Gorman. They all had a great day and it was a great way for the students to get to know each other outside of the class. Click for photos
Cross Stitch Classes began on Tues, 6 October. Click here for photos
Our Transition Year Students Walked Howth Head on Monday, 21 September 2020 accompanied by their Year Head Ms Mary Gorman and Ms Sorcha Furlong. The day was perfect with clear blue skies and sun and it was a great way to start activities for our Transition Year Groups – Click here for photos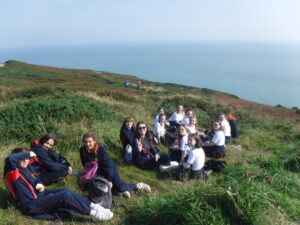 Ms Mary Gorman has produced a Power Point Presentation that you can access via this link – be sure to use your cursor to zoom in and out on each box and put your speakers on for sound – we are sure you will find the presentation very helpful. Click Here
Transition year is provided as an optional course each year to a limited number of students. We have received very positive feedback from students, parents and others who have already experienced the programme. It is seen as a worthwhile and realistic programme while fulfilling the following basic aims:
Providing a transition between junior and senior cycle.
Introducing a new range of experiences which traditional exam orientated courses cannot include.
Laying the foundation for further study in Senior Cycle and third level, for adult education and lifelong learning.
To introduce students actively to the world of work and work simulation and to help students decide on a suitable career.
A wide range of subjects are provided each year. These are categorised under Academic, Personal & Social Development and Vocational. The programme is reviewed on an annual basis with the introduction of new modules on a regular basis.
It is hoped that these studies will help students broaden their interests and that it will give them a chance to reach greater maturity for facing examinations and decisions about the future.
The success of the year is largely dependent on how much a student puts into the year and how they use their time in and out of school. Parents also play a big part by supporting their young people by trying to show interest in what they are doing, encouraging them to work on their own initiative and by keeping open communication.
Teachers feel that students who have done Transition Year stand out in Senior Cycle as being more mature and having a clearer sense of purpose and the incentive to work towards a goal.
Ms Mary Gorman, TY co-ordinator.
Note
Having considered the facilities etc. available we have one Transition Year class of 30 pupils. The Department of Education state that no student who participates in a Transition Year Programme may have more than 6 years in a secondary school.