Please Check back over the course of the year as we add photos of
the many events that happen in the life of Loreto College, Swords 2020/21
Click here to Access our Gallery for 2020/21 – click here to view
Our Transition Year Students Walked Howth Head on Monday, 21 September accompanied by their Year Head Ms Mary Gorman and Ms Sorcha Furlong. the day was perfect with clear blue skies and sun and it was a great way to start activities for our Transition Year Groups – Click here for photos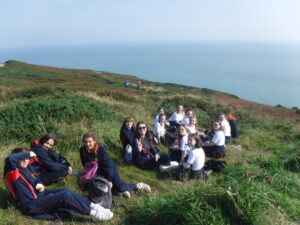 First Year Opening Year Mass –
We were delighted to open the year with our First Year students with a mass which was conducted in the open air by the Parish Priest from Rivervally, Fr. Des.
It was a lovely ceremony and it was extra special to have all our first years together as a group! Click here for some photos
Leaving Certs Results Day 2020 – click here to view
Some of our Leaving Cert Class of 2020
We were delighted to Re-open the school at the end of August and meeting our new First Year Students and also welcoming back our students from 2nd year onwards.
School is a very different place than it was when we closed in March but we hope that as we all become familiar to the 'new normal' that we can still enjoy all that school offers.
Click here for some images of life in Loreto Swords – Click here to open