Please Check back over the course of the year as we add photos of
the many events that happen in the life of Loreto College, Swords 2022/23
Album – click to see all Albums for this year
Congratulations to our First Year Basketball team on their recent win again Loreto Beaufort!
Congratulations to Layla Ren who graduated in June 2022 who was awarded an Entrance Exhibition to Trinity College, Dublin. This is a wonderful achievement and we wish Layla well as she continues with her studies in Trinity College.
Our Senior Students Took part in the Emmanuel concert which was held in the Helix on Wednesday evening, 1 March 2023.
Well done to the girls for all their hard work to make their performance so wonderful – thanks to their teachers Mr Glynn and Ms Heeney
Our Junior students took part in a Cross County Race in the local area on Thursday, 23 February with neighbouring schools.
Well done girls on your success and to Ms Graham and Ms Connor for organising the event
The 2nd years took part in Loreto Debates on Wednesday, 22 February in Balbriggan and we had our own 3rd years as adjudicators.
Deryn Gosson and Zitem Okafor won best speaker for their respective debates.
Deryn, Zitem, and Ciara Kelly from 2nd year all took part and Meda Kazlauskaite and Caoimhe Kearns from 3rd year were our adjudicators.
Well done to all the girls who took part and thanks to Ms Kat McEvoy who coaches our debating teams.
We were delighted to welcome Grandparents of students in First Year to a Special Grandparents Celebration here in the College on Tuesday, 24 January 2023. An afternoon of dance, song and light refreshments and all organised by Ms Cronin and Ms Heeney . It was a lovely occasion and enjoyed by all.
Our annual Shoebox Appeal took place this year and was a resounding Success! Thanks to all the students who made up a box and to our wonderful students who prepared them for collection – a Big thank you to Ms Cronin for all her hard work. Click here for photos
2nd Year Trip to St. Petersburgh was a big success! Thanks to Ms Graham for organising and for the teachers who accompanied the girls.
Memorial Mass Blessing, Tuesday 15 November 2022
200 students took part in this year's 'Gaeilge 24' Irish language challenge run by Conradh na Gaeilge. Students embraced the challenge to speak as much Irish as they could for twenty four hours. Not only did our students take part, but also many of our teachers embraced the opportunity to speak their 'cúpla focal'. We had lots of activities throughout the day, like a céilí, tráth na gceist, songs, games, movies, yoga and meditation. We also had a special Pop Up Gaeltacht at lunchtime where our Irish language student committee 'An Coiste' hosted a quiz and music. We had a wonderful day and are looking forward to participating again next year!
Thanks to Ms Laura McGlade and the Irish teachers for organising the event!
Well Done to two of our students who took part in the Irish National Taekwondo Championship.
Both girls were Gold Medal Winners in their competition which is an amazing achievement.
Well Done to Deryn Gosson and Clara Murphy!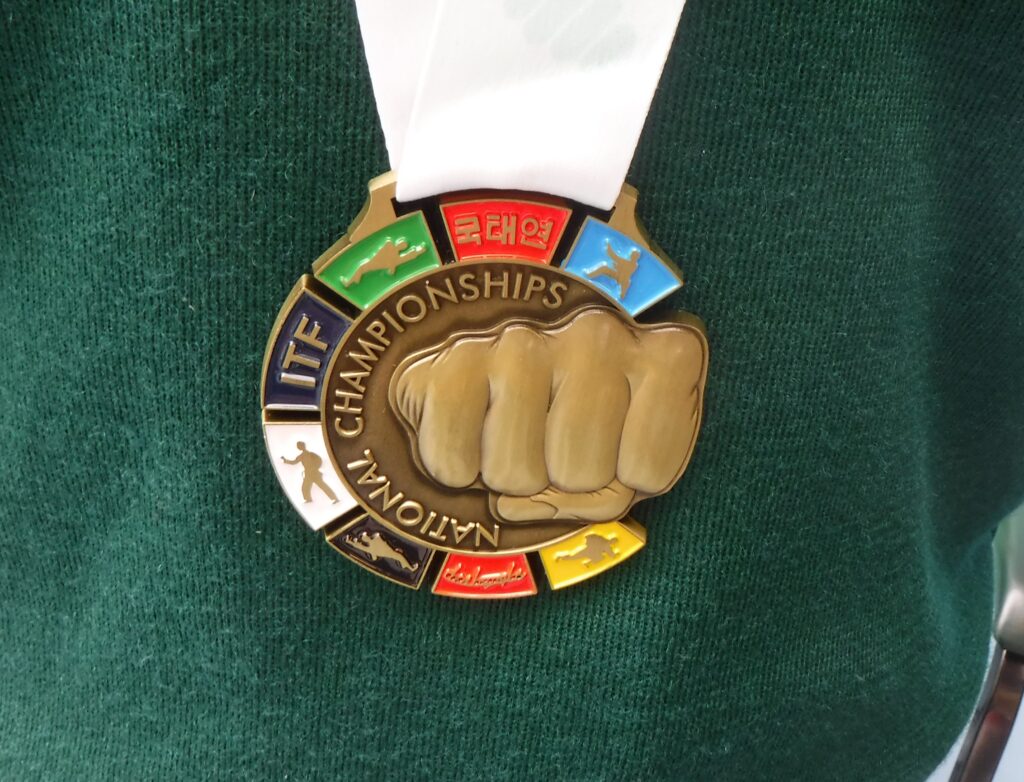 Our Annual Friendship Week took place during the week of 24 to 28 October. The week was an opportunity to reflect on what it means to be a friend and how our actions make a difference to those around us. We had a Guest Speaker come to the school to give a very informative talk on internet use/safety to our 3rd years on the theme 'Be Kind Behind the Screen' . We also had many activities taking place throughout the week that included the 1st and 6th years coming together to make Friendship Bracelets, a very enjoyable Halloween Concert and then a non-uniform day on Friday – thanks to all the students and staff who worked so hard to make this such an enjoyable week! A big shout out also to our Staff who embraced the Halloween Spirit and put on an unexpected Wheres' Wally ? Parade on Friday! €1,248 Was Raised for Charity – Loreto Rumbeck – thanks to all who made a contribution.
TY also organised Trick or Treat for Temple Street and raised funds for the hospital by selling goodie bags – well done!
We were delighted to Celebrate World Languages Week and this year we also had a Culture Week event which was a huge success held the week 17 to 21 Oct
We have a rich community of students from so many backgrounds and as a family we came together in song, dance and the sharing of food to celebrate. The PE Hall came alive with posters, flags and tables laden with new foods to try and it ended with a chance to enjoy singing and dancing. Well done to all the students who took part and a special thanks to Ms Meadbh Cleary who organised the event – we hope to have this event as an annual event each year!
Maths Week – 10 to 14 October 2022 organised by the maths department was a great success. We had a series of puzzles and competitions which included the ever popular cake baking competition. Click here for photos
Season of Creation – our first year students helped by Ms Cronin and our Caretaker Arnold were busy planting Daffodil bulbs during the week – in Spring we will get to enjoy their hard work when the Spring flowers bloom – well done girls! We also had a small reflection on creation led by Ms Cronin.
Sports Sampling Day took place on Thursday, 29 September – a wonderful day of sport to enjoy and a delicious ice cream to finish! Thanks to Ms Graham and Ms Connor for their hard work to make the day so enjoyable. Click here for photos
Keeping it in the Family –
We currently have six families in the school with 3 sisters currently attending Loreto Swords!-
We have had a busy start to the Year with our Annual Academic Prizgiving and Opening School Mass taking place on Tuesday, 20 September – many students are involved in a host of committee work and many received awards for their academic achievements last year – click here for photos
Academic Awards 2022
Opening School Mass/Committees 2022
Our Open Night took place on Monday, 12 September and we were delighted to welcome so many parents/guardians and their daughters to the school.
We sincerely thank our staff and wonderful student body who helped out on the night. We also thank our past pupils who returned to help out – it was lovely to see you all again!
If you were unable to come Please Click here for some photos
Our Annual Big Sister Little Sister pairing took place on Wednesday, 14 Sept.
Thanks to Ms Cronin for organising the programme – 1st Year Students have been matched with a 6th Year who will mentor and assit her 'sister' throughout the year.
Leaving Cert Results Day 2022, Friday 2 Sept
It was a wonderful occasion to welcome back the Leaving Cert Class of 2022 as they received their results. We were delighted to share with them their joy as they celebrated with their fellow classmates and staff alike. The results were excellent and reflected all the hard work of this group of individuals over the past 5/6 years. Click here for some photos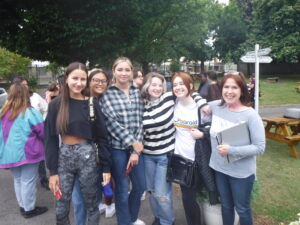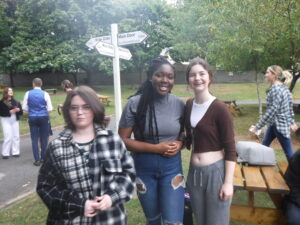 First Year Induction Day – 26 September 2022