Please Check back over the course of the year as we add photos of
the many events that happen in the life of Loreto College, Swords 2020/21
Click here to Access our Gallery for 2020/21 – click here to view
Loreto College Swords supporting Stand Up Awareness week and marking #comein where students came into school in the colours of the rainbow, reflective of the Pride flag. #comein suggests that no one would have to come out if everyone came in. Our school prides itself on fostering and promoting an atmosphere of inclusivity and this week we wanted our LGBT+ community to know that we accept and support them. Click here for photos
Science Week – The core theme for Science Week 2020 was 'Science Week – Choosing our Future' focused on how science can improve our lives in the future, and in the present. Students explored how science can help us to make positive choices that will impact the environment, our health, and our quality of life. Changes based on scientific evidence that we make today can hugely improve our future life, but also right now. The subject matter is broad and will incorporate topics such as the future of work, the future of health and wellbeing, and how we will all live in a world where we have had to mitigate and adapt to the challenges facing society. Climate change has not gone away, and now society has had to unite and face the coronavirus disease, COVID-19. Thanks to our Science teachers for their work in organising Science Week here in the college. Click here for photos
All Souls Day, where we remember our dearly departed was celebrated with a short reflection here in the school on Tuesday, 10 November. Members of our school community were invited to give the names of a person who had died and who they wanted to be mentioned in the ceremony conducted by Fr. Anthony. It was a quiet moment to come together and remember our dearly departed. Thanks to Ms Heeney for her beautiful singing and Ms Cronin for her organisation.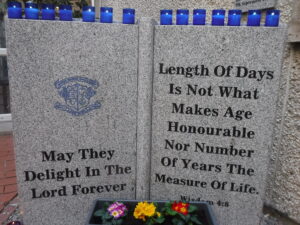 From Monday, 19 to Friday 23 October the school will be celebrating Friendship Week. A wide variety of activities are being organised from Monster School Quiz ,Random Acts of kindness, Friendship Tree , Dance and Mime performance, Daily Reflections, Friendship Poster, LGBT inclusion on noticeboard and Music Into Classrooms each morning. We also have a Halloween Display. We hope all our students enjoy the week and we thank all the staff for their work in organising all of these events.
Zipit – TY students had an adventure day in Dublin organised by Ms Gorman. They all had a great day and it was a great way for the students to get to know each other outside of the class. Click for photos
A maths week with a difference this year. Teachers held countdown, riddle of the day and quizzes in their classes throughout the week. The 1st year classes all participated in an outdoor maths treasure hunt. Well done to all the winners, pictured below, and everyone who took part in Maths Weeks 2020. Click here for photos
We were delighted to hold a virtual prize-giving ceremony in the school today. Although we could not come together in person in the hall for our normal prize giving we held an online event that could include us all. Many students were presented with awards and we also announced our Head Girl and Deputy Head Girl for this year. Please click here for photos . Well done to all our students.
Purple Nwojo (Deputy Head Girl) and Aoife Whelan (Head Girl)
Our Transition Year Students Walked Howth Head on Monday, 21 September accompanied by their Year Head Ms Mary Gorman and Ms Sorcha Furlong. the day was perfect with clear blue skies and sun and it was a great way to start activities for our Transition Year Groups – Click here for photos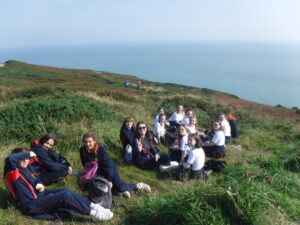 First Year Opening Year Mass –
We were delighted to open the year with our First Year students with a mass which was conducted in the open air by the Parish Priest from Rivervally, Fr. Des.
It was a lovely ceremony and it was extra special to have all our first years together as a group! Click here for some photos
Leaving Certs Results Day 2020 – click here to view
Some of our Leaving Cert Class of 2020
We were delighted to Re-open the school at the end of August and meeting our new First Year Students and also welcoming back our students from 2nd year onwards.
School is a very different place than it was when we closed in March but we hope that as we all become familiar to the 'new normal' that we can still enjoy all that school offers.
Click here for some images of life in Loreto Swords – Click here to open