Please Check back over the course of the year as we add photos of
the many events that happen in the life of Loreto College, Swords 2020/21
Click here to Access our Gallery for 2020/21 – click here to view
The 1st Yrs. had a special day of celebration last Tuesday, 18 May which included a short concert. Out on the basketball courts there was 'socially distanced' singing ,dancing, live music and two drama presentations.
6th Year Graduation took place on Friday, 14 May. We were unable to invite parents and guardians to the event but we hope that the girls still enjoyed a sense of having a 'graduation' send off as they finished their Second level schooling. We want to wish each of our students the very best as they leave us and we hope that they have many rich and exciting adventures ahead of them!
Annual Prize-Giving took place on Friday, 14 May. We held our ceremony online so that all our students could take part in this very important occasion. Well done to all the students who received awards for a variety of activities and a big thank you to Ms Geraldine Thompson for her help in organising all the awards.
Three of our 6th Year students who never missed a day in School in 6 Years!!
Please Click here for more photos of Prize-giving
Transition Year – the students were involved in a Cross Stitch session of class work and on Friday, 14 May the cross stitch teacher picked the student who she felt had made the best overall cross stitch project – well done to Alena Hughes! Click here for more photos
Loreto College is Awarded our Third Green Flag – May 2021
Green Team – Well done to the members of our Green Team and their teacher Ms Colette McCaughey on their new Green Flag for Water Conservation. This is our Third Flag following on from our Waste management/Recycling and Energy Conservation. It takes a lot of hard work not only to earn a new award but also to keep the two previous awards -this is a great achievement – well done to all our students on their hard work! Click here for photos
G
Down Syndrome Ice Cream Fundraiser – Ms Mary Gorman and the Transition Year Classes arranged a Fundraising event on Friday, 7 May to raise funds for Downs syndrome – the girls were asked to contribute €2 which will go to Down Syndrome Ireland and the school paid for the ice-cream for the event as a way to thank our students for all their co-operation and good humour through-out the year. We were delighted with the support shown and a big thank you to Ms Gorman and her TY students – its was a lovely way to spend the break in the sun with an ice-cream!! Thanks to Storm in the Teacup who supplied the ice-cream. Click here for photos
Transition Year had an outing to the Phoenix Park in April as part of an orienteering activity – they were also presented with Certificates for a First Aid programme they completed during the year – well done girls! Click here for more photos
We held a series of Easter Competitions this year and we were delighted with the amount of students who took part – well done to all the girls who entered and congratulations to those who won prizes.
Presentation of Cheque for €1,250 to Cystic Fibrosis raised by our students in December
Winners of the Christmas Baking Competition 2020
Junior winner- Clara McGee 1G -Candy Cane Cake and Senior winner- Alena Hughes -TY Igloo Biscuit – Well Done Girls!
On Friday, 11 December the TY students made a visit to Dublin Zoo for an Ecology Presentation – click here for photos
Forensics Day for Our TY Students as they investigated the assassination of President John Kennedy – click here for photos
It was a most interesting day for all the students and thanks to Ms Gorman who organised the event.
Christmas Jumper Day was held on Friday, 11 December – we also did a €2 Collection for Cystic Fibrosis and we thank all our students who contributed to this cause – the students all looked wonderful in their Christmas attire! click here for more photos
Transition Year Organised a Care Home Collection this year, as well as organising the collection of items from within the school community they also set up a stand outside Supervalue in Borimhe Shopping Centre – thanks to everyone who supported this initiative and in particular to Ms Mary Gorman for all work in co-ordinating this fantastic venture! Click here for photos
Christmas began today in Loreto College with a short liturgical celebration with Fr. Des. Ms Heeney sang a beautiful song and our students with the assistance of Ms Cronin came together for some special readings. Its is wonderful to be able to start our Christmas celebration as a Loreto Community. Click here for photos
Loreto College Swords supporting Stand Up Awareness week and marking #comein where students came into school in the colours of the rainbow, reflective of the Pride flag. #comein suggests that no one would have to come out if everyone came in. Our school prides itself on fostering and promoting an atmosphere of inclusivity and this week we wanted our LGBT+ community to know that we accept and support them. Click here for photos
Science Week – The core theme for Science Week 2020 was 'Science Week – Choosing our Future' focused on how science can improve our lives in the future, and in the present. Students explored how science can help us to make positive choices that will impact the environment, our health, and our quality of life. Changes based on scientific evidence that we make today can hugely improve our future life, but also right now. The subject matter is broad and will incorporate topics such as the future of work, the future of health and wellbeing, and how we will all live in a world where we have had to mitigate and adapt to the challenges facing society. Climate change has not gone away, and now society has had to unite and face the coronavirus disease, COVID-19. Thanks to our Science teachers for their work in organising Science Week here in the college. Click here for photos
All Souls Day, where we remember our dearly departed was celebrated with a short reflection here in the school on Tuesday, 10 November. Members of our school community were invited to give the names of a person who had died and who they wanted to be mentioned in the ceremony conducted by Fr. Anthony. It was a quiet moment to come together and remember our dearly departed. Thanks to Ms Heeney for her beautiful singing and Ms Cronin for her organisation.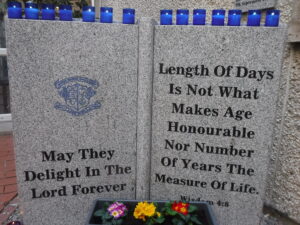 From Monday, 19 to Friday 23 October the school will be celebrating Friendship Week. A wide variety of activities are being organised from Monster School Quiz ,Random Acts of kindness, Friendship Tree , Dance and Mime performance, Daily Reflections, Friendship Poster, LGBT inclusion on noticeboard and Music Into Classrooms each morning. We also have a Halloween Display. We hope all our students enjoy the week and we thank all the staff for their work in organising all of these events.
Zipit – TY students had an adventure day in Dublin organised by Ms Gorman. They all had a great day and it was a great way for the students to get to know each other outside of the class. Click for photos
A maths week with a difference this year. Teachers held countdown, riddle of the day and quizzes in their classes throughout the week. The 1st year classes all participated in an outdoor maths treasure hunt. Well done to all the winners, pictured below, and everyone who took part in Maths Weeks 2020. Click here for photos
We were delighted to hold a virtual prize-giving ceremony in the school today. Although we could not come together in person in the hall for our normal prize giving we held an online event that could include us all. Many students were presented with awards and we also announced our Head Girl and Deputy Head Girl for this year. Please click here for photos . Well done to all our students.
Purple Nwojo (Deputy Head Girl) and Aoife Whelan (Head Girl)
Our Transition Year Students Walked Howth Head on Monday, 21 September accompanied by their Year Head Ms Mary Gorman and Ms Sorcha Furlong. the day was perfect with clear blue skies and sun and it was a great way to start activities for our Transition Year Groups – Click here for photos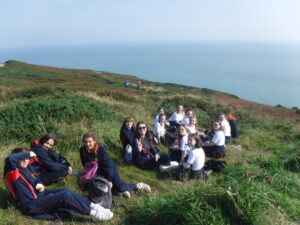 First Year Opening Year Mass –
We were delighted to open the year with our First Year students with a mass which was conducted in the open air by the Parish Priest from Rivervally, Fr. Des.
It was a lovely ceremony and it was extra special to have all our first years together as a group! Click here for some photos
Leaving Certs Results Day 2020 – click here to view
Some of our Leaving Cert Class of 2020
We were delighted to Re-open the school at the end of August and meeting our new First Year Students and also welcoming back our students from 2nd year onwards.
School is a very different place than it was when we closed in March but we hope that as we all become familiar to the 'new normal' that we can still enjoy all that school offers.
Click here for some images of life in Loreto Swords – Click here to open