Please Check back over the course of the year as we add photos of
the many events that happen in the life of Loreto College, Swords 2021/22
Prizegiving May 2022
Sports Day took place on Tuesday, 10 May 2022. Having had no Sports Day since May 2019 this was an extra special occasion. Our Sixth Year Students went with a Super Hero Theme – well done on the great costumes girls! Ice-cream was sold in aid of Downs Syndrome charity and was a great success.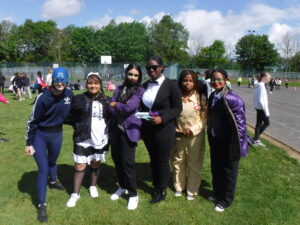 Class 1G who were the Overall Class Winners 2022
7 Transition Year students recently completed the Look into Law programme run by the Law Library of Ireland. Congratulations to those students on their great achievement.

Multi Cultural Week March 2022
We are delighted to reveal the results of our recent Multicultural Week competition. All students were invited to read the profiles in our Hall of Fame display and choose the person who influences them most and write about why. There were hundreds of excellent entries, and we would like to extend a huge thank you to everyone who participated!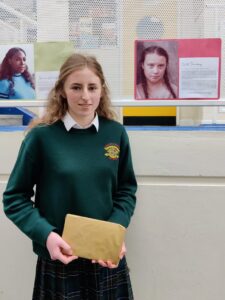 Congratulations to our winners: Olivia Emily Doyle of 1S, who wrote about Leymah Gbowee; Sneha Binu of 2R, who wrote about Dr Kiran Bedi; Ciara Sheedy of 3G, who wrote about Greta Thunberg; and Christine Oladipo from 6S, who wrote about Serena Williams.
We highlight the cultures of our school community during Multicultural Week, but we value them all year round. If Mary Ward were here today, she would remind us, "Women! Now is the time! There is much to do!" Let's continue to be inspired by the contributions of strong women from around the world and commit ourselves to following in their footsteps.
Loreto Swim Gala took place on Monday, 28 March 2022. Well done to all the students who took part!
A special word of congratulation to Megan Jones U 16 Backstroke 1st place
Senior Subject Choice Fair took place in the Hall today, 10 March for students in 3rd and 4th Yr. The Fair is organised to showcase each of the subjects that are offered to students for Senior Cycle – its provides an opportunity for the girls to ask questions of students in senior cycle about how they find the subject and the teachers are on hand to give additional advice. Many thanks to the students who helped out and to Ms Patricia Kennedy for all her hard work. Click here for photos
Power of Positive Thinking Week took place from Mon 17 to Fri 21 January 2022. We had a week of 'wellbeing' activites that included a Staff V's Student Obstacle course, movational announcements on the intercom, posters etc. Click here for photos
Christmas Care Packages Collection – this was organised by the TY Students and Ms Mary Gorman. Over 300 packages were collected and distributed to Care Home in the Swords Locality – well done girls and since thanks to everyone who contributed to this initiative
Zoo Trip , the TY students went to Dublin Zoo as part of their Science Studies – thanks to Ms Kilcawley!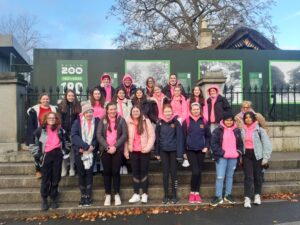 Halloween was celebrated prior to Midterm break and the TY Students provided lots of fun and colour around the building, they also helped with a quiz as part of Maths Week – click to open Well done girls!
A very Special Week took place in the college from 18 to 22 October inclusive as we celebrated 'Friendship Week'
Many activities took place over the course of the week – we had a DJ every morning before first class with upbeat songs and shout outs, a Friendship Tree on the concourse with posters and displays, a Quiz for all the students to take part in, hot chocolate served by the students themselves to their fellow students, Drama, Big Sister/Little Sister Friendship bracelets and a Staff V's student Dodgeball match – which we have to say was won by the students! All in all a most enjoyable week and we hope new friendships have been forged this week. Thanks to the many staff and students who put so much work into the events. Click here for photos
Sixth Year Leadership Committee and Head Girls
We are delighted to once again have a Leadership Committee this year having had no committee formed last year due to covid. The 6th Year leadership committee play a central role in the school leadership team and were picked by their fellow classmates. Well done to our new Head and Deputy Head Girls Diana Salop and Olivia Kelly.
6th Year Leadership Committee 2021/22
Head and Deputy Head Girls 2021/22
Annual Academic Awards took place and students received awards for their academic results during 2020/21 – well done to all the students who received an award. We also set up the various committees such as Catering, Liturgy, Library, Sports, Green Schools – again well done to all involved. Click here for link to our photo album – click here for photos
1st Year Sports Day took place on Wednesday, 29 September – all the students had the opportunity of sampling a variety of different sports and we hope this will encourage them to participate in sports whilst in school. Thanks to Ms Donna Graham and Ms Sarah Englishby for all their work and to the wonderful sports commitee who helped on the day! Click here for photos
1st and 6th Year Students Celebrated Mass on Thursday, 16 September. We held the mass outside and we thank Fr. Anthony and the Religion/Music teachers who prepared a lovely celebration. Click here for photos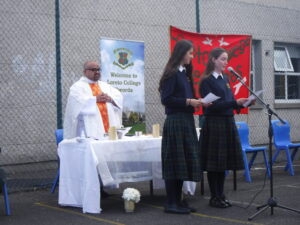 Big Sister Programme – in September each of the 6th Year students meet with the 1st Year students and are paired off.
Friendships are developed and a mentor like system is set in place. This programme is facilitated by the school Chaplain Ms. Betty Cronin
and it works extremely well. Click here for some photos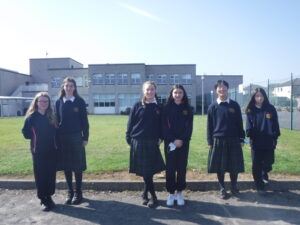 Leaving Cert 2021 Results Day!
Students in Loreto College Swords celebrated outstanding Leaving Certificate results this week after an exam year like no other.
We were delighted to welcome back our students and to congratulate them on their success – click here for photos
This year students were given the option of sitting the exams or receiving the accredited grade. The majority of Loreto College students chose to do both, and on results day, received the better of the two results. Almost 30% of students received over 500 points, while 20% achieved over 550 points. Seven students achieved over 600 points. In fact two wonderful young ladies achieved the maximum number of 625 points, Sarah Barron and Aoife Whelan. Well done !

Welcome to our First Year class 2021/22 – please click here for link to photos – click here to open