Please Check back over the course of the year as we add photos of
the many events that happen in the life of Loreto College, Swords.
Gallery 2019/2020 – click to open
The TY Students visited Ryan Air Headquarters as part of a careers module. They had a most informative talk about the aviation industry and the many careers on offer – thanks to Ms Patricia Kennedy for organising the trip.
Senior Music Students took a trip to Liverpool to visit the Beetles Experience as part of their Music syllabus – they were accompanied by Ms Heeney, Mr Glennon and Ms Morgan and they had a wonderful time – click here for photos
Transition Year had a visit to Bord Gais to see Blood Brothers on Wed, 27 February – they had a great time enjoying a marvellous production – thanks to Ms Aine Duffy who organised the trip. Click here for photos
Welcome to Loreto Grandparents Day took place on Wednesday 29 January 2020 – we were delighted to welcome over 40 grandparents of present First Years into the school for social gathering that included a school concert and tea and biscuits – a big thank you to Ms Cronin who organised the event. Click here for photos
Power of Positive Thinking Week took place from 14 to 17 January 2020. Many activities took place throughout the week from Music Bingo, Dance, Quizzes/Board Games, Big Sister/Little Sister meet up and Staff V student Basketball match. It was a great week and we thank Ms Patricia Kennedy and Ms Kadee Morgan for all their hard work in organising such a great event! Click here for photos
Christmas Concert took place on Wednesday, 18 December. A huge thank you to Ms Deirdre Scully and the Arts Committee for all their hard work and also to the girls who performed without whom there would be no concert. Well done to all! Click here for photos
A wonderful evening of music and song took place in St. Finian's Church on Wednesday night organised by the Parents Association. The Garda Band played and were accompanied by our students who sang Christmas Carols into the night. We sincerely thank the Garda Band for performing and providing such wonderful music. Thanks to everyone who attended and thanks to the Parents' Association for organising the event and raising money for the school in the process.
We also thank the students and teachers Mr Glennon, Ms Heeney and student teachers Mr Owen Kearns and Ms Justina O'Loughlin.
Old Folks Christmas Party took place here in the college on Wednesday, 27 November. Ms Theresa Sheelan and students welcomed a group of senior citizens and put on a tea and concert – well done to all the students who participated! Click here for photos
Annual Shoe Box Appeal took place organised by Ms Betty Cronin and the Transition Year Students – the students collected an amazing amount of boxes for this very worthwhile appeal and we thank everyone who supported this annual cause. Click here for photos
Science Week was celebrated from 11 to 15 November 2019 and a week of activities was organised by the Science teachers which included a daily science riddle, science experiments and a science related quiz – thanks to the Science department for all their hard work. Click here for photos
Gaeilge 24 took place on Wednesday, 13 November and was very well supported by the students – a day of speaking in Irish and a giant Ceili organised in the PE Hall. Thanks to the Irish teachers for organising the event and to all the students who took part. Click here for photos
Halloween was celebrated with a 'Spooky' concert organised by Ms Deirdre Scully that took place on Friday, 25 October. The event was full of halloween fun and we thank Ms Scully and her Arts committee for all their hard work.- Click here for photos
Friendship Week took place from 21 October to 25 October 2019 – a range of activites took place organised by Ms Betty Cronin – we had friendship making bracelets where the first years worked with their big sisters from sixth year, coffee/tea morning, speakers came into the school to speak to year groups and we also had a basket ball match with teachers v students – the week ended with a lunchtime concert – click here for photos
Maths Week took place from 14 to 18 October inclusive. Many 'maths' related activities took place including a maths quiz for all the 1st year students, cake baking with a maths theme and various maths games throughout the week – thanks to the Maths teachers for organising a great week. Click here for photos
Junior Certificate Results 2019 – Congratulations to all our students who got their Junior Certificate results on Friday, 4 October – it was a long wait for the girls so there was huge excitement when results day finally came. Well done girls and thanks to all your teachers and parents who helped you on your journey. Click here for photos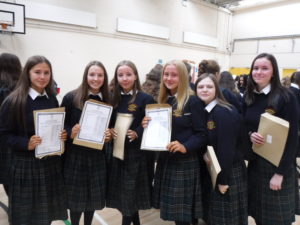 Members of our Morning Prayer Group 2019/20
Loreto College Swords would like to take this opportunity to take DHL sincerely for their generous donation of 4 Laptops for the Computer Science Department. These will be of huge value to the education of the students.
Academic Year awards took place on Tuesday, 26 September followed by the Annual School Mass which took place in St. Finian's Church, Rivervalley. As well as presenting prizes for academic achievement the various committees such as Green School, Leadership, Library, Morning Prayer Group etc. were all organised. Thanks to Ms Thompson for organising the awards and well done to all who were presented with an award.
Click here for photos of the Academic Awards and Click here for Opening School Mass
1st Years Sports Day took place on Friday, 13 September – all students had the opportunity to sample different sports and have fun at the same time! We hope all students will have enjoyed the day and will perhaps take up a new sport that before they had not even tried. Thanks to the PE teachers Ms Donna Graham and Ms Emma Keaveny who organised the day. Click here for photos
A Boyband 'New Rules' made an unexpected visit to the school on Thursday afternoon and entertained the students with songs and a special question time – a nice way for our students to finish a hectic week! We have had visits from other upcoming bands over the years that included Kodaline – maybe New Rules are the next to make it big! Click here for photos
Wellbeing Mural – over the summer break we commissioned a wellbeing mural in our PE. Hall, over the past week all students and staff had the opportunity of putting either their hand or finger print on the mural – it took a long time but the results are worth all the hard work! Click here for photos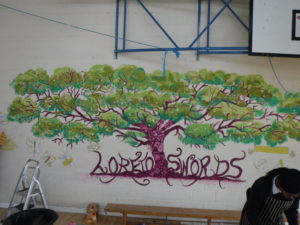 Big Sister/Little Sister – Ms Cronin has organised the big sister/little paring again this year- we hope that by introducing the 1st Year students to a 6th Year they can benefit from having an 'older' sister to mentor them as they progress through first year. Click here for photos
First Year Induction Day took place on Friday, 23 August 2019. Click here for some photos
Congratulations to all our Leaving Certificate Class of 2019 who received the results of their Leaving Cert exams on Tuesday, 13 June. The results were well deserved after all the hard work undertaken by the students – the staff are proud of their achievements and wish them well as they go forward – into College, Work and beyond – Well Done Girls! Click here for photos