We are delighted to reveal the results of our recent Multicultural Week competition. All students were invited to read the profiles in our Hall of Fame display and choose the person who influences them most and write about why. There were hundreds of excellent entries, and we would like to extend a huge thank you to everyone who participated!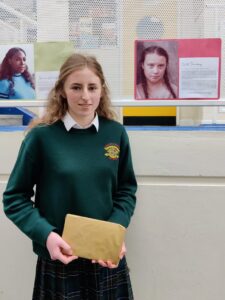 Congratulations to our winners: Olivia Emily Doyle of 1S, who wrote about Leymah Gbowee; Sneha Binu of 2R, who wrote about Dr Kiran Bedi; Ciara Sheedy of 3G, who wrote about Greta Thunberg; and Christine Oladipo from 6S, who wrote about Serena Williams.
We highlight the cultures of our school community during Multicultural Week, but we value them all year round. If Mary Ward were here today, she would remind us, "Women! Now is the time! There is much to do!" Let's continue to be inspired by the contributions of strong women from around the world and commit ourselves to following in their footsteps.
Multi Cultural Week – Competition Winners